Our passion for authentic, responsible, life-changing and budget-friendly travel experiences is what sets us apart from the rest. With us, you'll travel with friends, leave with family, and see Ethiopia in a way you never thought possible.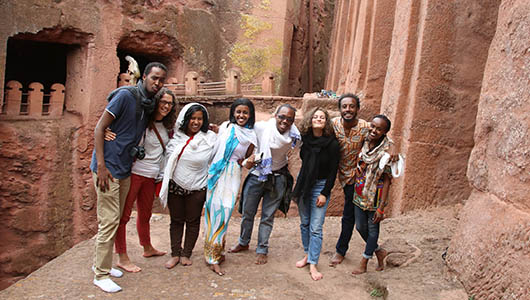 We started Backpack Ethiopia in 2015 because we wanted to show people the side of Ethiopia that not everyone gets to see. Through our work, we have been lucky enough to travel around the country and work with people who took us to less known places and shared things that we would never have experienced on our own. We felt there was a space to create these unique travel experiences with a personal, human touch for all other travelers who come to Ethiopia.
The best way to get to know us and our unique style of travel is by getting in touch with us. We would love to get to know you and partner with you to design the ultimate itinerary. Contact us to start your own journey.

Once-in-a-lifetime journeys
We help you plan once-in-a-lifetime journeys whether you are a solo-traveler or a large group. Whether you're looking for meaningful time with the people you love or the chance to reconnect with yourself, seeing the world or meeting fascinating people with different stories to tell, we help you plan your journey if you wish to rediscover, reconnect and take part in something bigger. Above all, we make sure, through the experience, you get under the skin of Ethiopia, and that you connect with local people, cultures and customs.
An unforgettable connection
You can think of us as well-traveled friends. We love what we do, and we make sure you love your experience. We take every opportunity to travel around the country, so our insight and knowledge is always up to date. You can trust that you'll get expert recommendations from someone who knows the Country inside out. If we sense that the fit is less than perfect, you can be sure we'll share our honest opinion and offer impartial advice.
Budget Conscious Experiences
Experiencing Ethiopia is not supposed to break your bank. Whether you are traveling on a tight budget or have some coin to spare, we make sure you get every bit of experience from your coin. We are second to none when it comes to traveling around Ethiopia on a tight budget. Our consultation services are absolutely free, and we are ready to answer all your questions about traveling around Ethiopia.
---
We have currently paused all activities as there are no travelers currently. We will be resuming our services as the country starts opening up its doors to incoming travelers. We truly don't know what to expect in the coming weeks, and as such we seek your support to be able to enter our next phases with a little bit of security.
To support Backpack Ethiopia and our Hostel 'Mad vervet Hostel', we are accepting donations. If you are interested in the different perks available go to our support page.